In the year 1858 a body of 9 Master Masons formed the nucleus of Charter Members which organized the beginning of a Masonic Lodge in the Village of Lambeth, familiarly known at the time as "Slab Town". At the regular meeting of Grand Lodge, held in the city of Kingston in the year 1858, M. W. Bro. Wm. Mercer Wilson, Grand Master, requested the names of the Lodges working under dispensation to be read. Sixteen Lodges thus working were recorded. St. Paul's thus received its Warrant or Charter denominated No. 107 dated July 29, 1858. The Installation of Officers was held on August 4, 1858. R.W. Bro. James Moffat, D.D.G.M., London District was the Installing Master. By the end of the first year five Brothers became Members of St. Paul's by initiation and one by affiliation, bringing the total membership to sixteen. The first meeting place of St. Paul's was in the gable of an old brick hotel, which stood where the Lambeth Branch of the Royal Bank is now situated.
Sometime later the Lodge rooms were moved to a building on the property immediately south of the cemetery. In 1878 a movement was started to acquire a permanent location for the Lodge quarters. A building committee of five Brethren was comprised and given authority to have a building completed before June 1879. On July 2, 1879, the committee reported their obligation completed. The builder of the Lodge Hall was Bro. Robert Summers.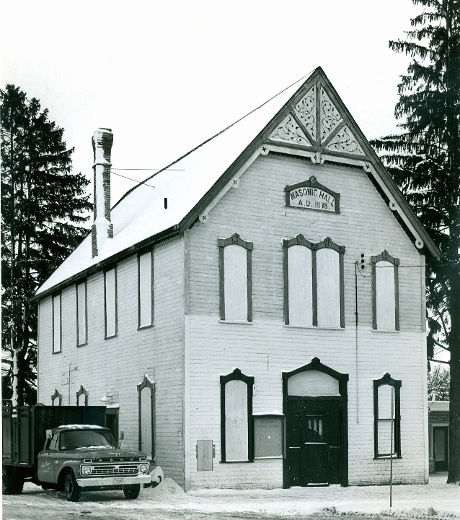 The Lodge Hall, which remained our Lodge home until 1965, was dedicated and consecrated July 30, 1879. The former Masonic Hall by the Royal Bank on South Talbot Rd served many purposes. The second floor was reserved for Masonic Work, but the main floor was at one time the Lambeth Continuation School ( Grades 9-12). It served as the Community Centre, home to the Boy Scouts, and finally became the Lambeth Post Office. When St. Paul's No. 107 finally decided to build a new home, the hall was purchased by the Post Office.
The present Lodge Building was built in 1964-65, and was dedicated in 1965 by Rt.W. Bro. Wesley Botham, D.D.G.M. London West District that year and M.W. Bro. J.A. Irvine, who was the Immediate Past Grand Master in 1965. The building was also the home of St. Paul's Chapter No. 242 R.A.M., Grand Chapter of Canada in the Province of Ontario. In 1991, Delaware Valley Lodge No. 358 sold their building in Delaware and and moved into the Lambeth Masonic Hall.
Delaware Valley surrendered their charter in 2015. Acacia Lodge No. 580 amalgamated with St. Paul's No. 107 on Oct. 11, 2006 and their history is elsewhere on this website.  Since their inception, St. Paul's Lodge has been favoured with five District Deputy Grand Masters.